Testimonials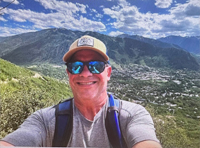 I wanted to let you know that my knee is doing great and as you promised my wife, I was able to hike in Aspen this summer. I really want to thank you for getting me back on my feet and doing my favorite activities with no knee pain. Attached is a selfie I took after a great hike overlooking Aspen.
‐ AS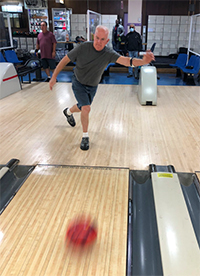 I am so glad we found you to perform my son's shoulder surgery back in 2013. You helped him get back on the field as shortstop for his team during his Senior year. His successful recovery and outcome made me choose you for my surgery in 2018 and the second one on my dominant shoulder this past March. Happy to report that I am back on the lanes - working on getting my average up! You are the best!
‐ SG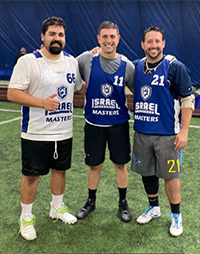 "I recently switched to Dr. Strauss and could not be happier. I have had knee woes since high school requiring multiple surgeries. The level of care Dr Strauss provided blew me away. He put me through tests that I have never seen before and thoroughly explained them to me each step of the way. He has helped me reach my goal to continue living a very active lifestyle and play elite level lacrosse. I highly recommend Eric and his team!"
‐ AC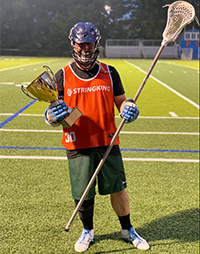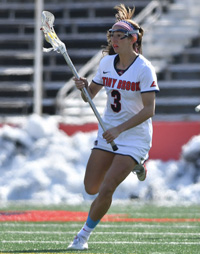 I just wanted to say thank you and because of you I was able to play division 1 lacrosse, made it to the NCAA finals all four years and now I‐m currently playing for the USA National Team.
‐ MB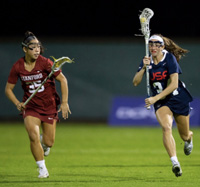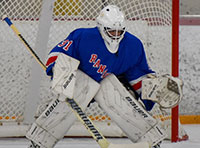 After a decade and a half off the ice, the bug to play ice hockey bit me again when I started coaching my son. After months of motivating myself and buying the necessary gear, just like that, my first time back in goalie equipment trying to get in the game, my left knee gave out. It was painful and embarrassing and deflating. I knew from the pain and from the way the knee buckled that my ACL was gone. In all that though, I was lucky enough to know Dr. Strauss. I'm pretty sure he was good to me not ONLY because I was his son's coach! Dr. Strauss's medical and surgical ability are superior ‐ that almost goes without saying. What shouldn't go unsaid is that he truly cares for the whole patient.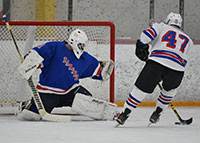 In my case, he spent so much time reassuring me that I'd be able to get back out there, that I'd be able to be active and play the sport I'd loved for so long. Through his talent, and paying attention to recovery and rehab, I was able to get back on the ice again. In a charity game ‐ with former pros on the ice ‐ and 350 people in the stands. I could have started smaller, but go big or go home! It would honestly have been easy to give up and hang up my skates, but Dr. Strauss didn't stop at repairing my knee, he made sure I could get back in the game.
‐ OB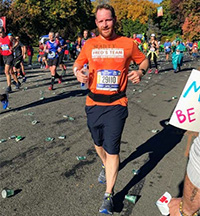 A couple years ago you did ACI surgery on my right knee. I just wanted to say thanks again for your help, I am having no issues and I am actually running the NYC marathon this year. Thanks again, you helped me get back to what I love doing most, being active.
‐ MM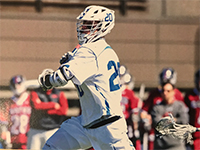 Thank you for all the help over the past year! I wouldn't have gotten back on the lacrosse field without you and your amazing team.
‐ EZ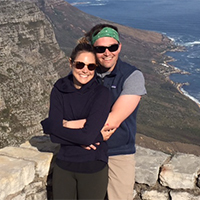 I tore my MCL/ACL/Meniscus skiing in Tahoe the day after Christmas 2016. The first doctor I saw in New York was Dr Strauss, and I really liked his energy and urgency around treating the damage to my knee. After a month of pre‐operation rehab, I had surgery on January 31, and I began a very thoughtful rehab program a few days after surgery. My goal was to be in good enough shape to make it through my honeymoon with my wife in South Africa, and I am proud to say that I was able to successfully climb Table Mountain in Cape Town without any brace or assistance. This was just 4 months post‐surgery! Thanks Dr Strauss for all the help and support!
‐ S.S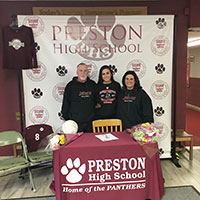 4 knee surgeries later, I would've never thought I'd be telling people I'm going to college to play volleyball. Thanks to Dr.Strauss, Jazmyn & all of the love, patience, and support from them, I'm now able to say that I will be playing the sport I love for another 4 years !! Thank you from the bottom of my heart, I wouldn't be here without you guys!!
‐ AME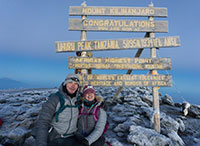 Good news ‐ I made it up and down Kilimanjaro and the knee held up really well. Proof that there is life after receiving a donor ACL and meniscus transplant. Thanks for everything!!!
‐ T.G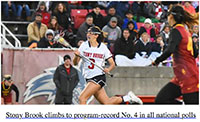 Dear Dr. Strauss, I want to thank you again for everything. I am a sophomore now in college and am doing great. I am a starter on Stony Brook Lacrosse team which is ranked 4th in the nation (that is me pictured). Without you things would have been different.
‐ M.B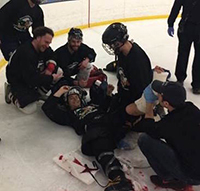 On Friday March 13th, 2015 I suffered an accident while participating in a men's league hockey tournament in Stamford Connecticut. My Achilles tendon was fully severed by a skate blade, not to mention a horrific gash. Upon being released from the ER in Stamford, I briefly recovered at my home in NYC prior to meeting with Dr. Strauss and his team for consultation and surgery. I didn't know it at the time, but I was very fortunate to have such a fine surgeon putting me back together. From top to bottom, Dr. Strauss and his staff provided exceptional care for to me through a tough time. Post operation, Landee his office manager was very punctual and professional in responses to appointment bookings, and always pleasant to speak with. Dr. Strauss along with physical therapists Mark and Kate, were careful with the progressions of recovery exercises, but also aware and in tune enough to know when it was time to move on to the next phases. The PTs impressed me with their ongoing interest in their field, often citing recent studies on various therapy experiments. I should also mention that particularly for a prominent New York City surgeon, Dr. Strauss sure was attentive to my consistent and may be even slightly annoying email questions such as "when can I ride a bike, can I swim this weekend, when can I golf, etc. etc. etc."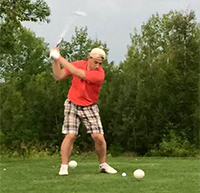 During my first post-op appointment Dr. Strauss informed me that my full recovery would take 6 to 9 months. Below you will see an image of me lying bloody on the ice (March 13th, 2015), me playing golf (but not swinging too hard per Strauss' instruction), (August 8th 2015), and finally, me completing my first game back on the ice in mid-September 2015, 5 months and 28 days post-operative, to be exact. You will also notice the same faces in the two hockey images.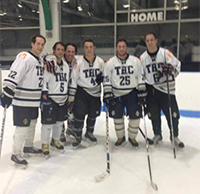 This speedy and full recovery is due to a terrific Doctor and supporting cast at NYC Langone. Thank you for giving me my skates back!
‐ RM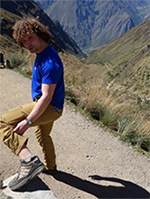 Thanks from a former patient. Achilles tendon repair - May 2015. Hiking to 13,800 feet in Peru ‐ April 2016.
‐ TFC
We just wanted to thank you for all your work and expertise in helping get Skylar back on her feet and back on the soccer field. Thanks to you she is having a great senior year.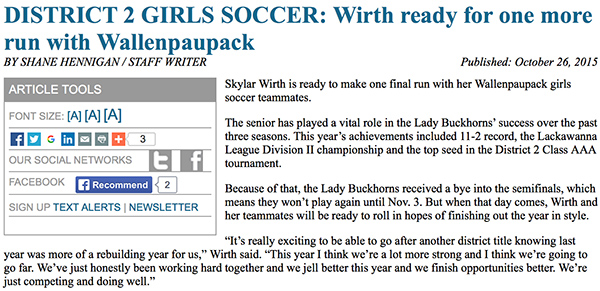 I zigged when I should have zagged while playing basketball last spring and my knee wouldn't stop complaining! When I couldn't play golf without pain, I knew it was serious. After a few missteps with a local surgeon, I met Dr. Eric Strauss. He and every staff member I met at NYU Langone were kind, competent, professional and reassuring.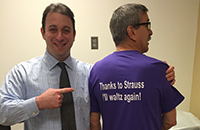 Dr. Strauss has literally gotten me back on my feet again and, thanks to his expert care I'll not only waltz again, but I'll hit a fairway wood with confidence. Dr. Strauss has my gratitude not only for his expertise and bedside manner but also for surrounding himself with the finest caregivers, from receptionists to residents
Gratefully,
‐ DS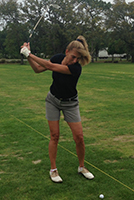 I am now 3.5 years following my ACL reconstruction playing golf with total flexibility and completely pain free. My surgery could not have been more successful ‐ everything went smoothly with minimal discomfort and maximum results!!! Thank you so much Dr Strauss for all that you have done for me!
‐ L.H.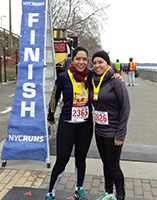 Dr. Strauss,
Thank you for your continued patient, thorough and encouraging care ‐ leading up to, during and post my ACL replacement surgery. Today just 8 months post op ‐ I am active and getting stronger everyday. In March ‐ 6 months after my ACL replacement surgery ‐ I completed the Ladies First 5K run (ran the entire way!). Thank you again,
‐ J.A.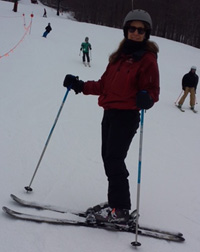 I was an avid skier until four years ago when I tore my ACL skiing. I chose Eric Strauss as my surgeon and I've never looked back. He encouraged me to go through with the surgery and gave me the confidence I needed to ski once again. After Dr. Strauss replaced my ACL, I did several months of PT at NYHJD. Just last week I skied for the first time since my accident.
I wore a brace prescribed and fitted at his practice that was light and easy to put on. I felt comfortable and confident, like nothing had ever happened. It was great to be back on the slopes!
‐ M.R.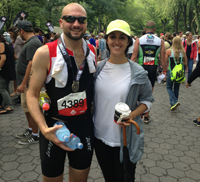 It's been just over a year and a half since you did my meniscectomy. Today I finished the NYC Tri. The attached picture is the reason I send anyone who needs their knees done to you. Thank you.
‐ B.E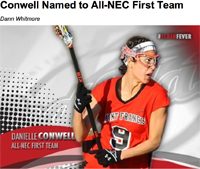 I just wanted to send you a few articles to show you how much you helped me succeed during my last year of lacrosse! Can not thank you enough for helping me recover from what I thought was going to end my career!
‐ D.C.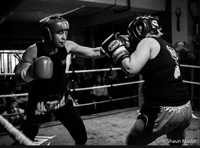 Just wanted to give a huge shout out to Dr. Strauss and his great team at NYU! I am a amateur Muay Thai practitioner and fighter for the Wat gym here in NYC. I discovered the gift of martial arts and Muay Thai later in life and it has changed my life in many wonderful ways. In Dec 2012 I tore my ACL and mensicus, not doing Muay Thai, but from a fall at work. I knew if I was to ever return to training Muay Thai again I would need a great surgeon that understood that what I consider a return to "Daily Activities" is different than most people. I asked trainers at the Wat and also my physical therapist and one name stood out in the referrals ‐ Dr. Eric Strauss. I was told he was a fan of martial arts, understood the grueling training, an excellent surgeon -he was the man for the job.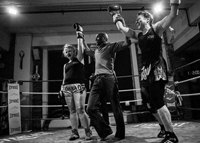 Dr. Strauss did my surgery on Feb 12, 2013 ‐ he and his team helped me every step of the way staying on top of my appointments, physical therapy programs and all the insurance paperwork. They listened to me and made sure I met my goal of getting back to training ‐ even when I was not sure I could do it they were :)
On Feb 28, 2014 ‐ I was back in the ring for a fight! I can't thank Dr. Strauss and his team enough for their skill, confidence, guidance and support.
"Oh-Way!"
‐ T.U.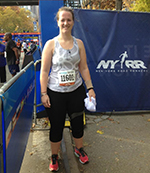 As my teammates carried me off the ultimate frisbee field last fall, little did I know I was going to spend the next year looking forward to visiting my orthopedic surgeon! Despite being a life-long athlete, I had never even broken a bone before and so naturally I was a nervous patient who needed an ACL reconstruction. Dr. Eric Strauss was nothing but professional, knowledgeable, and personable during my initial exam, while visiting my hospital recovery room, while answering my millions of questions post-op, and for everything in between. He explained every step of the process and included what current research says about the different options so I could make well-informed decisions. I trust Dr. Strauss, and I know that he is available to me if I ever have any questions or concerns. He genuinely cares about your quality of life and quality of rehab; he spends time going over physical therapy and brace options making sure to find what works for you. I always left his office reassured with all my questions answered.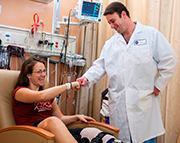 I have referred friends to him and they leave his office having had the same experience. Hopefully you never have to have surgery, but if you do, Dr. Strauss is the orthopedic surgeon to put your trust in. I am now a year post-op, and I've pinned the first of what will be many race numbers to my shirt. Thank you, Dr. Strauss
‐ B.S.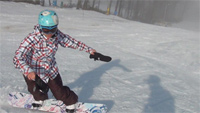 Thank you for fixing me up! Attached is a picture from last weekend at Camelback Mtns :) My knee feels good snowboarding. I've been back to training Taekwon‐Do and MMA for a few months and it feels good! Pivoting feels stable and pain‐free. Just wanted to update you on your GREAT work :)
‐ H.T.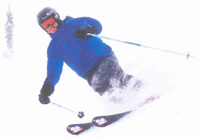 Dear Dr. Strauss, Under your direction on April12, 2011, I was treated to the finest care available in New York while undergoing a right knee ACL replacement at NYU Outpatient Center. You helped me to achieve my goal of being able to go back-country skiing by January 2012. The staff at NYU treated me with the utmost professionalism and respect and Adrian Miranda at SportsPT got me in shape again to climb/hike/ski. Many thanks for your excellence.
‐ W.S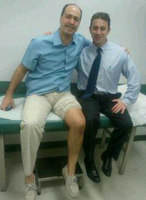 After having five previous knee surgeries and three different orthopedic doctors, I finally got it right by picking Dr. Strauss as my new orthopedic surgeon- his care has changed my life forever. In the five years before I went to Dr Strauss, I struggled to walk more than a city block without severe knee pain. Now, six months post rehab from a revision ACL and Meniscus surgery, I can walk for miles without pain and even completed my first 5 mile race. After over a decade of knee problems, Dr.Strauss has ridden me of knee pain and improved my quality of life more than I can ever explain. Dr. Strauss is wonderful, thorough, and patient. He's always answered all my questions and concerns and never rushed me out of his office. You can't ask for a better surgeon than Dr. Strauss! Thank you Dr. Strauss for giving me my life back!
‐ K.B.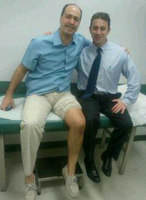 My experience with Dr. Eric Strauss can only be described as eye opening. I visited Dr. Strauss on a recommendation from my neighbor who had been treated by Dr. Strauss. I had been searching for several months for an orthopedic surgeon with whom I could reconcile an old injury. The exceptional treatment started with the first visit. Dr. Strauss was informative and caring, to a point I've not seen with any other medical practitioner. Upon my return home after my first visit I found an email from Dr. Strauss waiting in my inbox, in which he invited any further questions via email concerning the total knee replacement we discussed during that initial visit.
How many, if any, other doctors even think of doing that!! And he actually replied my subsequent emails in a very timely manner. Dr. Strauss made sure that I understood all aspects of the surgery and recovery along each and every step of the way. He was superlative with both myself and my wife both pre and post surgery. And he somehow made it his way to visit me during my hospital stay, each day twice a day, morning and night!! This while he also had his associates also visit me each day during my hospital stay. I'm now in my 3rd month of recovery from the surgery and I must say everything has gone as Dr. Strauss predicted each and every step of the way.
I'm now at the very state Dr. Strauss predicted I'd be at our very 1st meeting. I truly feel blessed for meeting Dr. Strauss. His bedside manner should be videotaped and shown as mandatory teaching throughout all medical schools. It is exceptional and something not seen in most doctors these days. Visiting Dr. Strauss office is like a breath of fresh air! You're greeted with a smile by not only Dr. Strauss but everyone in his office. I actually look forward to each visit, even though it's not close to home by any means. I would wholeheartedly recommend a visit to anyone with any type of joint issues. There is no unknown when being treated by Dr. Strauss. You'll find yourself in complete state of calm knowing you're in not only very capable medical hands but ones that makes you feel very cared for as well.
‐ J.S.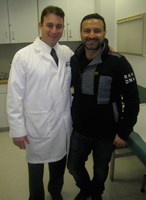 "Superlative Care" is the only way to describe my excellent experience working with Dr. Eric Strauss and his team, who took care of me following my recent knee injury and surgery for a meniscus tear (damaged cartilage in my knee). I put 'Care' in capital letters because for the first time in a long time, I truly felt cared for at every step of the way during a difficult medical experience. I'm a medical doctor and have had years of experience in the field, but this was my first time recently being "on the other side of the wall" for a prolonged period and having to go through the cold, impersonal, frustrating world of medical care and the US insurance industry. But working with Dr Strauss really made everything as good as possible.
I'm sure many people feel the way I did when I was given a list of names and told to see that person who happened to be in my network. I did some calls around and spent the better part of a Sunday trying to figure out who was or was not in my insurance network. On Monday morning, I tried calling a number of the offices on the list. From the first time I called Dr Strauss's office, the voice at the other end made me feel welcome and actually tried to get me in to the office that same day (unlike other offices I had been referred to who did not feel the urgency that I did). Dawn, the medical assistant at their office, was all smiles, very empathetic, and instantly made me feel at ease for being there. And through the whole visit and subsequent ones, made every effort to facilitate my needs, eg MRI appointments, physical therapy, etc. Landee, Dr Strauss' office manager, was excellent with follow through and was very efficient in coordinating medical records from my primary, scheduling my operation, and managing authorization from my insurance. And this is everyone besides Dr Strauss himself.
Dr Strauss has an amazing, kind, caring bedside manner. He is very thorough, explained every option and consideration, reviewing test results in good detail, and 'surprisingly' (because I haven't seen anyone else do this!), he pauses and makes sure I've taken in the information and asks if he has answered all my questions. The surgery itself was uneventful and the recovery process, although slow, has been exactly the way Dr Strauss described it. Throughout this period, he was excellent at returning calls promptly and again always made sure there was adequate communication. Little things matter and Dr Strauss is even attentive to little courtesies, like stopping in before my appointment and apologizing because he was going to be 5 minutes late ‐ when was the last time you experienced this at a doctors office ?!
My experience at the NYU Hospital for Joint Diseases was also very positive, although you do go through the typical trials and tribulations of being hospitalized, like talkative room-mate when you have a caffeine headache, or a chest X‐ray at 6 am the morning of the operation (couldn't it had been done while I was waiting in the waiting room the night before for 3 hours?) But overall, the nurses and staff were very attentive, returned call buttons promptly, and were very helpful and caring.
I am now 2 weeks out from surgery and improving steadily. I am sure many surgeons know how to operate well and fix damaged joints, but I doubt that there are many who are as kind, attentive, empathetic, thorough and truly caring about the whole patient experience as Dr. Eric Strauss. I am very fortunate to have received care from Dr Strauss and his team, who really should be role models for us doctors everywhere.
‐ H.K.
Related Topics